In 1916 the Labrador Club was formed in England with support from Lord Knutsford (Munden Kennel line) and Lady Lorna, Countess Howe (Banchory Labradors). Some chocolate labs are said to trace back to FC Banchory Night Light from the Banchory Kennel. He was a black dog born in 1932 in England. Night Light comes from the line of Dual Ch. Banchory Bolo (1915) who appears to be a carrier of the chocolate gene from Buccleuch Avon. Sh. Ch. Banchory Bolo was also known for carrying a trait of white hairs under the feet (Bolo pads).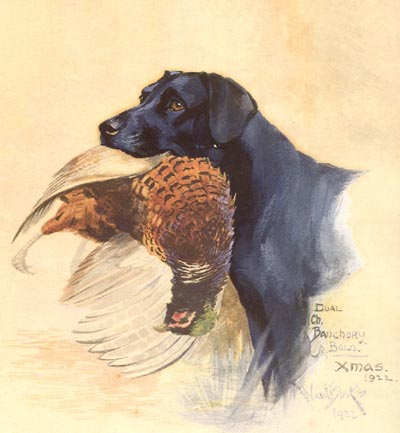 English Ch. Banchory Bolo
1915-1927
In the late 1930's Chocolate Labradors were known to be at two kennels: Tibshelfs & Cookridge. Some of these lines connect down to NFC-AFC Storm's Riptide Star from Buccleuch Avon and Banchory Bolo.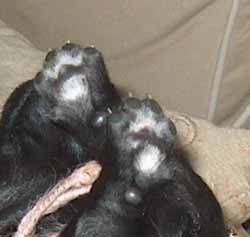 Bolo Spots/Marks
This is called a "Bolo spot" or bolo mark. Its named after CH. Banchory Bolo one of the early Labs who had these spots and passed them on to his get and future generations. Bolo spots are found on the back of the leg above the pad. This is NOT considered a mismark.