Our feelings on early spay/neuter
We feel very strongly about the importance of spaying and neutering all pets. However, we also urge you to be cautious when choosing the appropriate age to have this life changing procedure done. We feel that the consequences of doing this surgery earlier than 12 months are so substantial that we cannot in good conscience, guarantee that your pet will grow properly and remain free from hip and/or elbow dysplasia. Of course it is ultimately your decision when to alter your pet and while we won't stand in your way. I want you to have the healthiest, best looking Labrador you possibly can and this is why I encourage spaying and neutering at appropriate ages!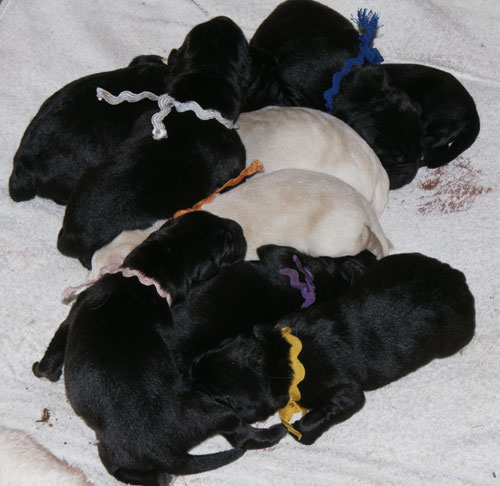 This article provides evidence through a number of recent studies to suggest that veterinarians and owners working with canine athletes should revisit the standard protocol in which all dogs that are not intended for breeding are spayed and neutered at or before 6 months of age.
Orthopedic Considerations
The sex hormones, by communicating with a number of other growth-related hormones, promote the closure of the growth plates at puberty
So the bones of dogs or bitches neutered or spayed before puberty continue to grow. Dogs that have been spayed or neutered well before puberty can frequently be identified by their longer limbs, lighter bone structure, narrow chests and narrow skulls. This abnormal growth frequently results in significant alterations in body proportions and particularly the lengths (and therefore weights) of certain bones relative to others. For example, if the femur has achieved its genetically determined normal length at 8 months when a dog gets spayed or neutered, but the tibia, which normally stops growing at 12 to 14 months of age continues to grow, then an abnormal angle may develop at the stifle. In addition, with the extra growth, the lower leg below the stifle likely becomes heavier (because it is longer), and may cause increased stresses on the cranial cruciate ligament. In addition, sex hormones are critical for achieving peak bone density.
Breeders of purebred dogs should be cognizant of these studies and should consider whether or not pups they bred were spayed or neutered when considering breeding decisions.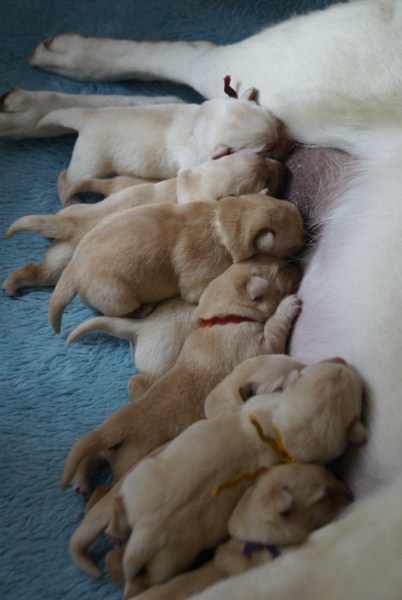 Cancer Considerations
A study of 3218 dogs demonstrated that dogs that were neutered before a year of age had a significantly increased chance of developing bone cancer.
There certainly is evidence of a slightly increased risk of mammary cancer in female dogs after one heat cycle, and for increased risk with each subsequent heat. While about 30 % of mammary cancers are malignant, as in humans, when caught and surgically removed early the prognosis is very good.
Behavioral Considerations
The study that identified a higher incidence of cranial cruciate ligament rupture in spayed or neutered dogs also identified an increased incidence of sexual behaviors in males and females that were neutered early.
Further, the study that identified a higher incidence of hip dysplasia in dogs neutered or spayed before 5 1/2 months also showed that early age gonadectomy was associated with an increased incidence of noise phobias and undesirable sexual behaviors.
Other Health Considerations
I have gathered these studies to show that our practice of routinely spaying or neutering every dog at or before the age of 6 months is not a black-and-white issue. Clearly more studies need to be done to evaluate the effects of prepubertal spaying and neutering, particularly in canine athletes.
Currently, I have significant concerns with spaying or neutering canine athletes before puberty. But of course, there is the pet overpopulation problem. How can we prevent the production of unwanted dogs while still leaving the gonads to produce the hormones that are so important to canine growth and development?
I believe it is important that we assess each situation individually. For canine athletes, I currently recommend that dogs and bitches be spayed or neutered after 14 months of age.