Sporting dogs are a group within the major kennel clubs, including the Labrador Retriever Kennel Club. The breeds that are contained in the sporting dogs group include:
• Retrievers
• Setters
• Pointers
• Spaniels
• Weimaraner
• Wirehaired Griffon
• Spinone Italiano
These dogs are also informally known as hunting dogs, gun dogs, water dogs or sometimes incorrectly as tracking dogs. What sets this group apart from other breeds is that they were all bred to assist hunters with some aspect of hunting game birds or, very rarely, other small game. Originally the hunting was for necessity, but over time it developed into hunting for sport. The group name, sporting dogs, has evolved from this change.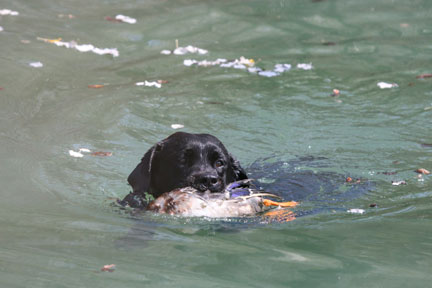 Competitions
Most of the breeds within the sporting dogs group have requirements for appearance and for temperament and ability. Sporting dog competitions usually do not require that the dog be of purebred standing to enter the competition, rather simply that the dog can complete the requirements of the competition or trial event.
Different Kennel Clubs and sporting dog organizations hold these events across many different areas and countries. There is several different levels of events, ranging from a Junior level to a Master level hunting competition.
Each dog must retrieve a set number of "marks" or downed birds in a simulated hunt. The dogs do not compete against one another, rather they compete individually against a set standard. They are judged on a list of factors and the dog with the highest overall score is the winner of the event.
Field trials involve the dog having to find downed game as well as locating scent trails. Both hounds and sporting dogs often compete in field trials or events. The dogs have to find game that is placed up to 100 meters away from the "shooter" that simulates the action of a real hunter. The dogs compete both against each other and against a set of criteria. The handler works with the dog to help to give direction to where the "mark" was thrown.
Sporting dogs that are very obedient and able to follow the handler's directions as well as use their own ability to see and scent the game will be the most effective in the competition.
Not only is the sporting dog judged on his or her ability to complete the required task, they are also evaluated on their behavior, attitude, and ability to work with the owner or handler. If you're interested in getting involved in sporting dog competitions, contact us or plan to attend an event in your area.

Check out Fieldtrial link on links page for clubs and info.